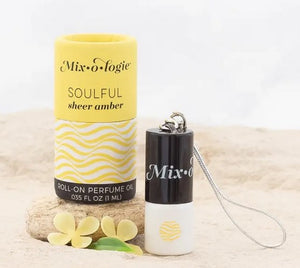 Soulful (sheer amber) Mini Rollerball Keychain by Mixologie.
Engaging to the core, with the enveloping sensuality of amber, musk, an alluring bouquet of wild freesia, peach rose, and white jasmine. Feel-good patchouli and vanilla create an understated, yet alluring inner journey.
Mix with our other mini roll-on scents to create your very own blend! Recipe cards available to get you started. 
1 mL - Alcohol-Free, Paraben-Free, Phthalate-Free and Cruelty-Free.