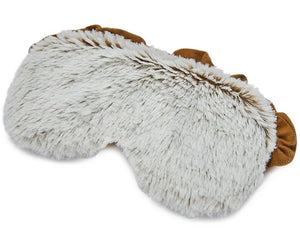 Marshmallow Brown Warmies® Eye Masks are microwavable and gently scented with French lavender for the ultimate comfort and relaxation.
Simply warm in a microwave for 60 seconds for a peaceful night's sleep or chill in the freezer to rejuvenate tired eyes.
Quick Facts: Simply Warm Marshmallow Brown Warmies® Eye Mask in a Microwave Soothes, Warms and Comforts Scented with Real French Lavender Chill in a Freezer for Cooling Relief Safe for all Ages.
Dimensions: 8.5"x4"x2"