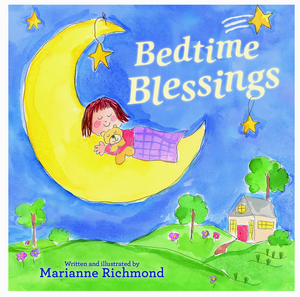 A Christian Good Night Story Prayer Book for Children (Christian Gifts for Toddlers, Baptism Gifts for Boys and Girls). 40-page hardcover book. Beloved author Marianne Richmond celebrates God's blessings in this sweet bedtime book!
This heartwarming book of blessing for kids is the perfect way to say your prayers for bedtime and give thanks for a beautiful day.
Dear God, It's the end of the day and time for my prayer to say thanks for your blessings and heavenly care Bedtime Blessings offers a peaceful way to end the day with a special child, through this heartfelt prayer of gratitude and wish for God's blessings on others, too.
Created to help grow a joyful spirit of contentment in even the youngest child, this sweet blessing will guide them into dreamland with a heart full of thanks and love.
Bedtime Blessings will also make for the perfect Christian Easter, Christmas, or holiday gift for kids.