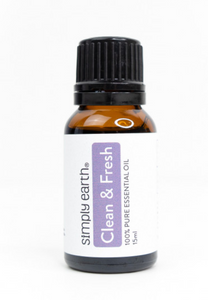 The perfect blend of the outdoors and citrus, Simply Earth's Clean and Fresh Essential Oil Blend was created to brighten your day.  Clean & Fresh gives you the boost of energy you need to clean your home naturally.
Uses:
Cleans naturally
Boosts energy
Details:
Ingredients: Fir Needle, Neroli, Lemon, & Grapefruit
Cautions:
Kid Safe: Yes, 2+
Pregnancy Safe: Yes
Breastfeeding Safe: Yes
More Safety Info: Phototoxic
*These statements have not been evaluated by the Food and Drug Administration. This product is not intended to diagnose, treat, cure, or prevent any disease.